Rockburn Board
Organizing Board (left to right):
Harry Randall, Dale Schumacher,
Len Felgner, Graham Atkinson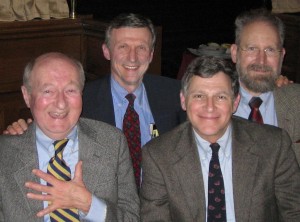 Dale N. Schumacher, M.D., M.P.H., M.Ed.
President – Rockburn Institute
Dale N. Schumacher, M.D. is President of the Rockburn Institute, a Maryland nonprofit health services research and consulting organization established in 1979 that provides quantitative support to healthcare organizations.  Since 1995, Dr. Schumacher has concurrently served Crozer-Keystone Health System as its Clinical Informatics Officer supporting quality and evidence-based medicine initiatives.  From 2003 into 2013, he served Long Island Health Network as its external Quality Compliance Officer and chair of its Medical Executive Steering Committee.  He was a Board member at Kaleida Health where, and as a member of the Board's Quality Committee, he supports high priority quality and strategic initiatives.  Len Felgner, who recently retired, was a key Rockburn partner for over twenty years.
Dr. Schumacher has 35 years of healthcare experience with over 30 hospitals/systems.  Internationally, he worked with the King's Fund, London; Ecole National de la Santé Publique; the Polish Ministry of Health; the Australian Council on Healthcare Standards; the Welsh National Health Service; and major nursing schools in China's northeast province.
Dr. Schumacher holds a Bachelor of Science degree from the University of Arizona and received his M.D. and Master of Medical Education degrees from the University of Illinois.  He earned a Master of Public Health degree at The Johns Hopkins University, School of Hygiene and Public Health where he was a post-doctoral fellow in the Departments of Health Services Administration and Epidemiology.  He served his medical internship at The Johns Hopkins/Baltimore City Hospitals and completed a residency in internal medicine with the Baltimore City Hospitals and St. Agnes Hospital.  Dr. Schumacher is Board Certified in internal medicine.  He is a Fellow of the Health Insights Foundation and has worked closely with Pitts Management Associates, Inc. (PMA).
He resides in Elkridge, Maryland.  He is active in local and national preservation land trust organizations has participates in the perpetual environmental protection of 250 acres and two historic colonial manors in the intensely developed Baltimore Washington corridor.
Mitch Kaminski, M.D., M.B.A.
Board Member – Rockburn Institute
Dr. Kaminski is currently Chief Clinical Officer of the Delaware Valley Accountable Care Organization (DV-ACO). He was Medical Director at AtlantiCare Physician Group in New Jersey from 2012 to 2015. For over ten years, Dr. Kaminski was the Chairman of Family Medicine at Crozer-Chester Medical Center, 2001 to 2012.
Dr. Kaminski has a special interest in healthcare reform, specifically making healthcare more efficient, more effective, and more patient-centered. From 2008 to 2012 he was a member of the Board of Examiners for the Malcolm Baldrige National Quality Program, charged with evaluating some of the best healthcare systems in the country against strict quality criteria.
Andrea Schumacher, M.S., M.S.W.
Board Member – Rockburn Institute
Ms. Schumacher has been with The Hilltop Institute since 1995.  She is the lead business analyst for Maryland's development of the LTSS/Maryland software application for multiple Medicaid programs.  Ms. Schumacher is the lead project manager for the Prevention Reporting System for Maryland's Prevention and Health Promotion Administration.  She is also a lead project manager for the Maryland State Department of Education school health surveys websites.
John W. "Jay" James, Jr., M.E.M.
Board Member – Rockburn Institute
Mr. James led technical programs, people, and resources for over 33 years at the National Security Agency where he was a NSA-certified senior engineer, leader, leadership trainer, mentor, and public speaker.  He is a consultant in information technology, systems engineering, analysis, and leadership training.
Lloyd G. Knowles, M.S.
Board Member – Rockburn Institute
Mr. Knowles was a Senior Engineer at Johns Hopkins University's Applied Physics Laboratory for over 30 years. Mr. Knowles was also Assistant Professor for the Department of Radiology at Johns Hopkins School of Medicine for 18 years.  Active in the community, he was on the Howard County Council for 12 years.
Harry Randall, M.D.
Board Member – Rockburn Institute
Dr. Randall is an ophthalmologist in the Johns Hopkins Health System.  He has guided performance improvement positions at Greater Baltimore Medical Center, Social Security Administration and federal peer review organizations.  He has been a Rockburn Institute Board member since 1985.
J. Graham Atkinson, D. Phil.
Board Member, Retired – Rockburn Institute
J. Graham Atkinson, D.Phil., is an independent consultant in healthcare finance who provides statistical and policy analysis for health and hospital associations, individual hospitals, universities, and national healthcare coalitions. Dr. Atkinson also works with health economics and healthcare payment systems.  He has been associated with the Rockburn Institute since 1984.
Leonard N. Felgner
Board Member and Senior Associate, Retired – Rockburn Institute
Leonard N. Felgner is a healthcare consultant specializing in professional management resources.  He was chief operating officer of Health Management Advisors (HMA), Inc., Ann Arbor, Michigan, a consulting firm that assists hospital operating teams and physician groups to better measure and achieve improved performance.  HMA has provided services to over 150 organizations and focuses on: financial control systems, administrative information, and computing systems and database management.
Mr. Felgner and HMA have participated in joint engagements with Rockburn Institute since 1988.  Rockburn Institute utilizes HMA's analytical software system, Limina.
Rockburn Institute      410-796-4554      Rockburn.org